It's time for me to actually update this poor blog. And it's also time for me to thank you properly.
I haven't been responding or updating or doing anything a decent person would do because I was genuinely overwhelmed by the amount of love and support I was and am still receiving. I was literally paralyzed by the comments and likes and profile pictures and gifts and cards and flowers and text messages and prayers…and I don't say "literally" because I'm hip with the cool words, I say "literally" because I couldn't have responded appropriately if I wanted to. Now, though, I think I am ready to attempt to show my gratitude.
Thank you so much. Yes, you. You reading this. I feel every ounce of your support and your love and I don't know how to reciprocate accordingly, which drives me crazy. I never saw this cancer coming, and I never thought (in the 10 minutes between receiving the news and receiving the first messages) that I would be as supported and as prayed for as I am. I can only hope that there is an opportunity in the future for me to return the favor and to make a difference for you.
I've added a picture of the boat at Folly that my amazing cousins painted for me. So many people have changed their profile picture on Facebook to the boat to show support, and I haven't been able to comment on each picture to thank them. I HAVEN'T BEEN ABLE TO THANK EVERYONE! THANK YOU EVERYONE!!!! Anyway, here's the picture.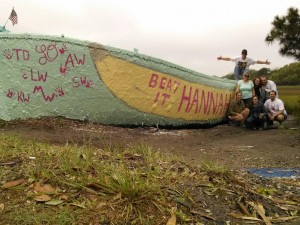 Mini update: Last Thursday I had one last biopsy for a spot on my pelvis called the right iliac crest that showed up hot on the PET/CT scan. Many things can show up hot on this type of scan, which is why I had a biopsy. The results have not come in as of right now, but once they do we will be able to determine what type of chemo I'll be treated with and when I'll start.